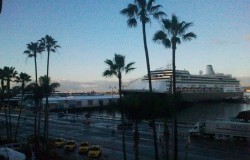 Posted on February 20, 2013 by jay in Uncategorized.

I've been traveling quite a bit for work these last few months. One of my duties was delivering information to turf professionals around the state at weekly "road-shows." This entailed traveling for one day a week and giving an hour presentation about new herbicides for turfgrass weed control. It was fun to interact with our stakeholders, [...]

Continue Reading... No Comments.