Ironman UK
Posted on

jay

on

August 10, 2013
Sunday's race went about as expected. I was 6th Male in 9:02 and some change. I was  proud to be in the payout, but that's not what I'm truly capable of. My training hasn't been perfect. I nearly backed out of the race three weeks prior due to a list of injuries: I broke my hand in April, about two days before the Xterra southeast championships. I stepped on a rock during a long run in June and tweaked my foot – probably a fracture. Needless to say, I've mainly focused on biking these past few months. I think my maximum weekly run mileage might have seen 30 once in the six weeks prior- not enough to really compete like I'm capable.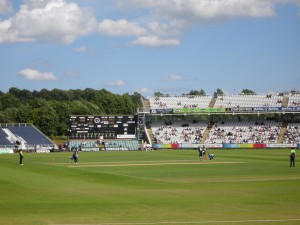 All said, the pre-race week really was extraordinary. My in-laws, Alan and Sheila, were great. We had a day out on Sunday at my first cricket match – a Twenty 20 version of the game in Durham.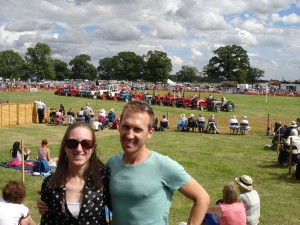 We went to the Ryedale farm show on Tuesday and saw lots of things that interest me. There were sheep, tractors, bands, and friends. The following few days were low key. We all stayed near the race site beginning on Thursday. There was a nice pub where we ate many of our meals. I pre-rode most of the course on Thursday and had a nice swim on Friday followed by a run. The weather was comfortable.
IM UK is a logistically challenging course. The swim is at Pennington flash, which is 20K from a hilly three loop bike circuit. And the run finish is more than 10K from the bike to run transition. This means lots of driving in the days before in order to view the course and/or ride it. The traffic around Manchester is horrendous, so 20k might take 90 minutes to drive. Thanks to Alan for being my Chauffeur.
Race day was business as usual – up at about 3 to eat and stretch. I had a fairly normal breakfast – small cup of granola, a chocolate bar, some bananas, and Ultragen. I pumped up the tires; warmed up a little with some light jogging; sat around until swim start.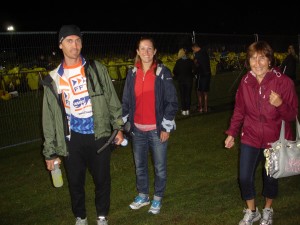 The pro wave started about 15 meters in front of the amateurs (about 1600 people). I held onto Joe Skipper's feet, but we lost contact with the lead pack less than a quarter of a mile into the swim. I took a quick look back under my arm and saw about five age groupers right on my feet. From that point on, Joe and I had a few amateurs to take turns with, which probably saved us a few minutes during our 49 minute, 2.4 mile swim. Joe and I exited the water right behind Scott Neyedli, who had evidently headed towards the swim entrance rather than the swim exit during his first lap.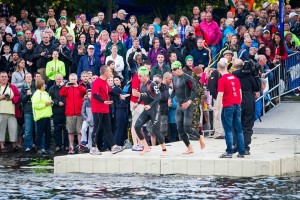 Between the three of us we knew we were in 6th through 8th position, with a 90 second gap to Dorian Wagner and 1st through 4th scattered at about 6 minutes ahead and including Dan Hawksworth, Stephen Bayliss, Harry Wiltshire, and Fraser Cartmell. The accent of Sheep House, a steady climb up to Rivington Pike, was packed with spectators, so that was fun. Actually, I thought the whole bike course was pretty fun. With the exception of a few blocks where my energy levels dropped, I was right on my target for power output and was feeling strong.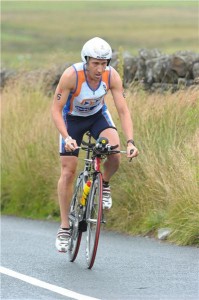 Joe had a puncture and stopped for a tire exchange before the last accent. On the other side, he just rolled away from me. I told Scott I wouldn't ride with him to chase Joe (cause I was cracking a little at that point and thought Joe was catchable on the tricky section through Buxton Village). Scott chased him; Dorian and I were left in the dust. We did eventually bring them back, but Joe was playing his cards well. He saved enough to drop us when we entered a tricky section with lots of cars and age group traffic (I touched a few cars during this section, so it was truly luck whether or not you made it clear or had to grab the brakes). He put 2 minutes on us before transition to the run. Ride time: 5:02 on a very tricky course.
Harry was in the penalty box when we went through transition. I think Fraser had taken a wrong turn and followed a camera crew. Both of them eventually dropped out of the race. Scott ran by me within the first mile. I always seem to struggle the first few miles of the run – gagging and dry heaving, cramping, etc. I think it takes a few miles for the excess food in my gut to settle into my intestines. By mile 5, I was feeling right. I was running in 5th for the longest time. I'd pass through Bolton town square, see there were two guys gaining on me, put in another bit of surge hoping they'd stop chasing.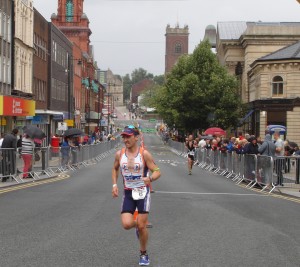 I kept working at a sub 3-hour marathon pace, but I ran out of room with about 10K to go when Joel Jameson passed me. Props to that man though, cause he ran a race best 2:52 marathon on a very hilly run course. We talked the next day. He had worked for it.
So I finished another great event. I'm healing up for some more racing this fall. I'm hoping to do the Fool's Gold 100 mile mountain bike race in about a month. Then I might do Ironman Florida in November. The foot will have to decide for me. It's been a long road to IM UK, but it was fun.
The next day, we had a drive down to Crosby beach, where we had a walk amongst the Antony Gormley sculptures of Another Place. After that we drove over to the Wirral, a coastal peninsula between the rivers Dee and Mercy.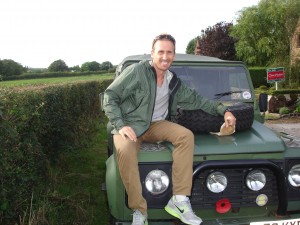 There we saw our friends Ken and Yvonee. Ken let me drive his Land Rover. Then we dined at a nice place on the tidal flood planes of the river Dees. All in all, a very good trip.