Be Prepared
Posted on

jay

on

May 11, 2013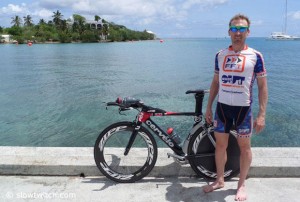 In short, I wasn't prepared for St. Croix 70.3. I was fit and mentally ready, but my equipment might have been better prepared. Mainly, my tire selection was right for almost every other race I could have done, but alas, the supple Vittoria evo CX tubulars were not up to the challenges that St. Croix offered. The 4 inch tropical rains the night before had washed gravel onto the course – in some places several inches thick. In other places, like the one where I double flatted, there was standing water/mud with who knows what beneath. In the end, I double flatted at mile 43 of what was turning into a great race.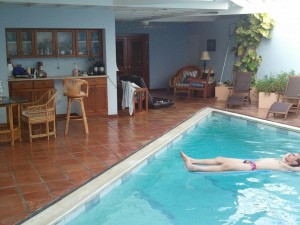 But on the bright side, my homestay was excellent. Robert Williamson is a pharmacist on the island. He grew up in Princeton, KY, not far from my hometown in northwest TN. I shared a room with my friend and recent pharmacy grad,Travis Albrecht (also from KY). We had a blast in the days leading up to the race, and the days after. Robert has a pool in his living room.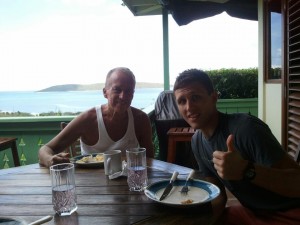 He lives on a beautiful hillside overlooking Buck Island – famed for its bountiful reefs and isolated beeches. Need I say more?
Race Day. It rained heavily the night before. I was acutely aware how bad the roads would be; I had seen them after a light rain on Thursday. However, it was too late to make changes to my gear. Even if I could have bought new tubulars on the island, I wouldn't have trusted a rushed glue job on such twisty and technical descents as those offered by this brutal bike course. I ran about 100 psi, when I usually run 115, to prevent any slippage on wet pavement. I also carried a Pit Stop, when I often carry nothing – in many races, a flat is the end of the race. But when you pay to travel all that way, it's best to have insurance.
Despite a brutal swim, I managed to hang on to finish with the second pack – something that doesn't always work (either because a pack never forms, or there's not enough guys as slow in the water as me). I got out with the likes of Maxim Kriatt, Michael Levato, Oscar Galindez. It was fairly conservative biking until we got to the "Beast," a climb averaging above 15% for the better part of a mile. I felt strong and pulled away only to be joined by Oscar and Mikolaj Luft (Polish guy; I can't pronounce it). Oscar had obviously played it careful on the downhills and speed bumps following the Beast, but Mikolaj and I had pushed it pretty hard. I sucked wind and took in some nutrition (EFS liquid shots and drink – totalled about 800 calories for the 43 mile stretch) while Oscar dug deep. "If only I could catch Oscar," I thought.  So I went for it. I was almost to him. I could even see two guys up the coast (no more than a mile). Anyways, as I caught Oscar, I let him stay ahead of me on a technical run up to the third aid station, and right as I was catching him, I hit a giant pothole covered with mud and water.
We all know the sound a puncture makes – pop, shpi,shpi,shpi,… But few of you know how many curse words are in my vocabulary and even fewer of you know how many I can spew off in a matter of seconds. Fortunately, only a random French lady was there to hear them this time.
So I stomped and cursed but mostly I rushed to fix the front tire (the only one that was flat at the time). I used my pit stop to fix the front; although, I think it leaked due to the valve extender coming un-screwed and was probably not truly a flat. Then I threw my leg over the bike and the rear tire promptly blew. I thought that would be it. But a race marshall or support bike threw me another pit stop that they must have found on the road. It was no use. I think it was empty or half used. So I walked a little ways to get away from the French lady who I thought was going to have to take me in until the course opened to motorized traffic, but finally I hitched a ride with a nice couple of massage therapist (Ballie and Cailey; I think). I'd like to believe it wouldn't have mattered what tires (tyres for you proper English folks; all two of you) I had run. I hit a massive hole, and when it's not your day, it's not your day. One bad line, and it was over. "Se la vie," as the French lady said. She said other stuff too, but I didn't understand much.
Come to find out, when I got back to the transition area to collect my stuff and drink a Fanta, Travis had also flatted (3 times). We both were upset but made the best of our afternoon. We cleaned up. Ate some pecan pie. And went to the awards banquet, which was ironically only 1oo yards from where I had double flatted earlier in the day. Then we joined a few other weary triathletes (including Nina Kraft, who Robert adores; she's pretty hilarious) for some drinks in downtown Christianstead.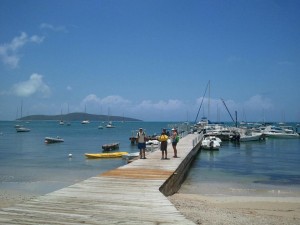 Monday, we went sailing and snorkeling at Buck Island (all within sight of Robert's house, I might add). It was fantastic stress relief, but I went home tired. Hell, I'm still tired. The combination of the heat and humidity, mosquito bites, and possible malarial fever, have taken it out of me.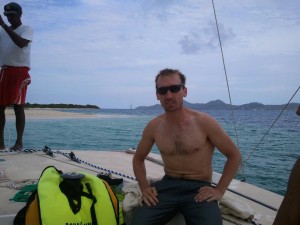 All in all, it was a very taxing and expensive trip to not show up in the top 5 (and sans money).
Next up: Xterra SE Championships in Birmingham, where I'll get to shred some gnarly trail with the likes of Conrad Stoltz and Craig Evans. It's a very technical course, and I'm not too confident on several parts – particularly Blood Rock (aptly named due to the amount of blood it has coaxed from those willing to ride it). The next day is Memphis In May. It's my home race, always has been. And I'm looking forward to seeing friends and having a good hit out with some quick guys on a flat course.
Keep up to date by following all my exploits over at FFT and on my website.
Jay